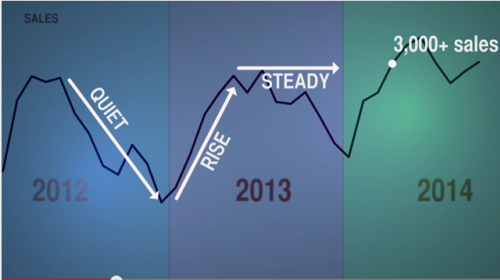 "Copyright British Columbia Real Estate Association. Reprinted with permission." - BCREA makes no guarantees as to the accuracy or completeness of this information.
Housing Report For Greater Vancouver -
Third Quarter, 2014

Market conditions in Vancouver have improved as a result of increasing consumer demand and a steady decline in the number homes for sale. Housing demand in Vancouver improved from a below average level to above average over the first ten months of the year. The main reasons for the increased demand were:
Low interest rates - this helped to spur consumer demand for housing.
Population growth - majority of the expected 35,000 to 36,000 net international migrants to the province settle in Metro Vancouver, creating a steady pace of housing demand.
Employment growth - at 2.5 per cent contribute to the positive demand for housing.
Consumer confidence - is on an upswing, with retail sales up 6.5 per cent year-over-year.
When compared to 2013. MLS® residential sales are projected to be up nearly 17 per cent for 2014 to 33,800 units. A further 0.6 per cent increase in 2015 to 34,000 units is expected.
During the fall months, the market home prices were pushed higher and above the rate of inflation. The MLS® HPI Composite, the price of a typical home, was up 6 per cent in October compared to the previous year. The single-detached HPI was up almost 8 per cent while it was up just 4 per cent for apartments. The average MLS® residential price is forecast to increase 6 per cent to $814,000 this year. The average MLS® residential price is forecast to edge up 0.1 per cent to
$815,000 next year.
The slowdown in demand for housing in Greater Vancouver in 2013, rebounded in 2014. Strong consumer demand has trimmed new home inventories, with completed and unoccupied multiple units at a three-year low. Total housing starts are on pace to increase 3.5 per cent to 19,350 units this year. Single Detached housing starts continue to trend higher and are expected to increase 6.1 per cent to 4,250 units. Multiple starts are on pace to grow 2.8 per cent to 15,100 units this year.
Total housing starts in the Vancouver CMA are forecast to increase 1.8 per cent 19,700 in 2015, with relative balanced growth between multiple and single family
units.
0 Comments