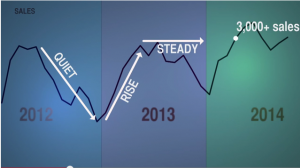 Market conditions in Vancouver have improved as a result of increasing consumer demand and a steady decline in the number homes for sale. Housing demand in Vancouver improved from a below average level to above average over the first ten months of the year. The main reasons for the increased demand were:
Low interest rates - this helped to spur consumer demand for housing.
Population growth - majority of the expected 35,000 to 36,000 net international migrants to the province settle in Metro Vancouver, creating a steady pace of housing demand.
Employment growth - at 2.5 per cent contribute to the positive demand for housing.
Consumer confidence - is on an upswing, with retail sales up 6.5 per cent year-over-year.
Read more